EVPs – Electronic Voice Phenomena
There are a lot of theories about how EVPs are captured, but unfortunately, all they are is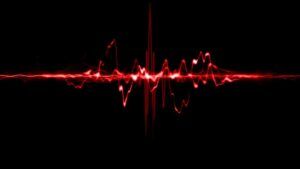 theories; nobody has come up with a definitive answer as to how the recordings occur. Investigators everywhere will tell you after recording on a site, it is not uncommon to have responses on audio recording on playback that the investigator didn't hear while making the recording.
In most cases, two versions of each EVP is provided. One is the original recording. The second recording is the same sound file with the volume of the actual EVP turned up to make it easier to hear. In some EVPS I will leave enough audio on the front of the recording to put it into context.
The use of headphones is HIGHLY recommended! It also helps to turn up your volume. Most EVPS are faint and difficult to hear.
EVPs on this site are specifically those believed to be demonic in origin. This is subjective but generally determined by the content of the EVP, and the context in which it was captured. EVPs listed here won't necessarily be posted with a date or location, but the newer EVPs are at the top, and the older EVPs are toward the bottom.
Riverton Demon
This EVP was captured in a home here in Utah. There was a young boy in the home that was being targeted by a dark entity. Two mediums independently verified the entity was demonic, and several of the signs and symptoms of a demonic infestation were present in the home. WISPS was able to address the situation and the demon presence is now gone.
[soundcloud url="https://api.soundcloud.com/tracks/173096948″ params="auto_play=false&hide_related=false&show_comments=true&show_user=true&show_reposts=false&visual=true" width="100%" height="200″ iframe="true" /]
Texas Enemy
This EVP has been provided courtesy of our friends at the Utah Ghost Investigator's Society (GIS). This EVP was submitted by a Texas family who was working with a Demonologist, believing their son was the target of an attack. During the investigation, the father of the boy took a video camera into the boy's room and had his son begin a tour of the room. During the tour, the boy claimed to see movement on the TV. The following EVP was captured on the video camera's audio.
(Disclaimer: This EVP was submitted to the GIS so they are unable to verify its authenticity)
[soundcloud url="https://api.soundcloud.com/tracks/163587824″ params="auto_play=false&hide_related=false&show_comments=true&show_user=true&show_reposts=false&visual=true" width="100%" height="200″ iframe="true" /]